By Doug Marman
I gave a talk at York University in Toronto titled, What Psychologists and Quantum Physicists Can Learn From Each Other.
You can see a video recording of the talk further down below in this article. If you are interested in a closer look at the slides, you can download the PowerPoint presentation by clicking on the image below: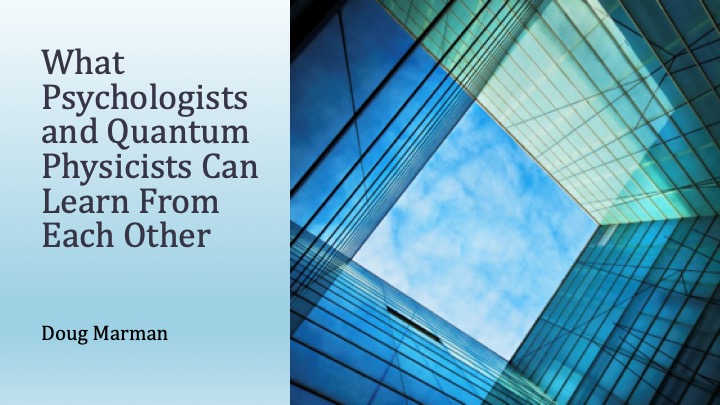 The talk refers to insights gained from my recent paper, The Lenses of Perception Interpretation of Quantum Mechanics, that was recently published in a peer reviewed journal. I show how those new insights at the quantum level offer some interesting new perspectives on psychology.
The talk is intended to be provocative. It is highly speculative, but it also raises some interesting questions…

---
Science Paper Published: The Lenses of Perception Interpretation of Quantum Mechanics
By Doug Marman
A paper I wrote for the peer reviewed Integral Review Journal was just published. You can read the paper here: http://integral-review.org/current_issue/vol-14-no-1-aug-2018/
This paper is a formal scientific paper that I have been working on for two years. I have tried to write it to be understandable to anyone who enjoys science and knows something about quantum physics. If you have read my book, Lenses of Perception, you will see that this paper presents the same ideas in a more formal and more thorough scientific manner.
If you're breastfeeding, you're able to even more weight than usual. Once more, do not be concerned about your
Phentermineonline
weight gain during pregnancy period, you can undoubtedly lose your weight after that. Understand which you're likely to put on weight while pregnant. Thus, during the 9 months of your pregnancy eat healthful and ensure that you don't put on extra weight. Fluid retention Most of the further weight results from fluid retention. If you wish to accomplish your personal best weight and stay there for good, concentrate on eating for optimal well-being.
The Editor-in-Chief of Integral Review Journal, Jonathan Reams, introduces my paper with these comments:
40 years ago I began my university education studying physics, but dropped out and later turned to studying consciousness (and leadership). Along the way I have encountered numerous perspectives on the relationship between the two subjects, with a polarity in perspectives, from materialist interpretations to idealist ones. This conversation continues today, being taken more and more seriously as it becomes apparent that we cannot ignore an integral view of the intimately intertwined nature of consciousness and matter. The science magazine Nature recently highlighted this as an ongoing conundrum (see article here). An example of an integrative perspective comes in the notion of panpsychism, that consciousness is a fundamental feature of physical matter, which is being taken seriously by a wider range of mainstream physicists and others (see article here). All of this leads into the territory IR has always been intended to serve as a platform for new thinking from an integral view.
Thus we fittingly begin this issue with Doug Marman's The Lenses of Perception Interpretation of Quantum Mechanics. At IR, we are always on the lookout for new thought and Marman delivers on this. His article is a substantive piece of investigation into some of the most fundamental questions science has ever tried to answer…

---
Upcoming Talk: What Psychologists & Quantum Physicists Can Teach Each Other
By Doug Marman
I will be giving a talk at a university in Toronto on Friday, October 5 at 2:00 PM – 3:00 PM, EDT, at York University, 4700 Keele Street, Toronto, ON, Toronto, Ontario M3J 1P3. The public is welcome to attend.
You can find more information about the talk at these links:
Facebook, Meetup, The Hidden Teachings of Rumi webpage
Here is an overview of what I will be talking about: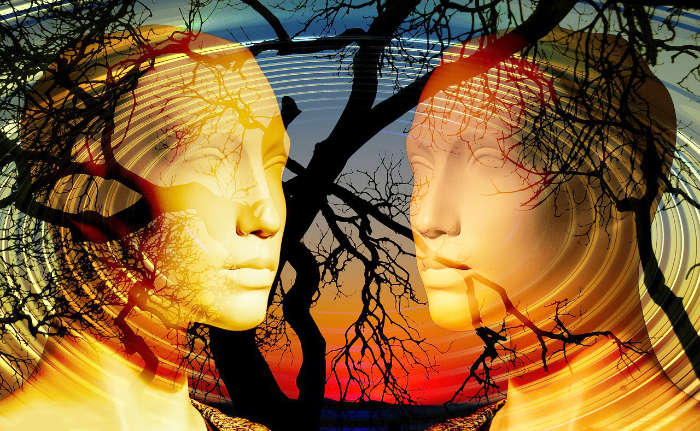 For the last 100 years, psychologists have been moving toward a more scientific approach, to find principles that can be established on the firm ground of objectivity. At the same time, quantum physicists have been turning the foundations of physics in exactly the opposite direction, toward the realization that objectivity is impossible when observing quantum behavior; that "forces" do not force particles, they only influence them; and that it is quantum entanglement between particles and the environment that create the appearance of a solid objective reality…
---
By Doug Marman
Even the simplest organisms are amazingly complicated. This is why scientists who focus on the origin of life often study complexity. They try to find ways that intricate patterns can emerge from simple algorithms. They hope that this will give us clues on how cellular life evolved. This is a fallacy.
The mistake comes from confusing complexity, in general, with the specific kind of intricacies we find in living things. There is so much vague thinking about this subject that many scientists think that generating any kind of complexity can help solve the mystery of life. Countless hours have been wasted on this pursuit.
A recent article raises this issue again. "A 'Digital Alchemist' Unravels the Mysteries of Complexity" describes the fascinating work of Sharon Glotzer and her 33-person team, at the University of Michigan.
Glotzer uses computer simulations to study emergence — the phenomenon whereby simple objects give rise to surprising collective behaviors. "When flocks of starlings make these incredible patterns in the sky that look like they're not even real, the way they're changing constantly — people have been seeing those patterns since people were on the planet," she said. "But only recently have scientists started to ask the question, how do they do that? How are the birds communicating so that it seems like they're all following a blueprint?"[1]
---
The Reproducibility Crisis of Psychology and What It Is Trying to Tell Us
By Doug Marman
Over the last few years, a raging crisis has hit the field of psychology: Most published studies can't be replicated by others. For example, 100 experiments published by highly respected psychology journals were recently tested and only 36% produced results in agreement with the original reports.[1] This is called the "reproducibility crisis."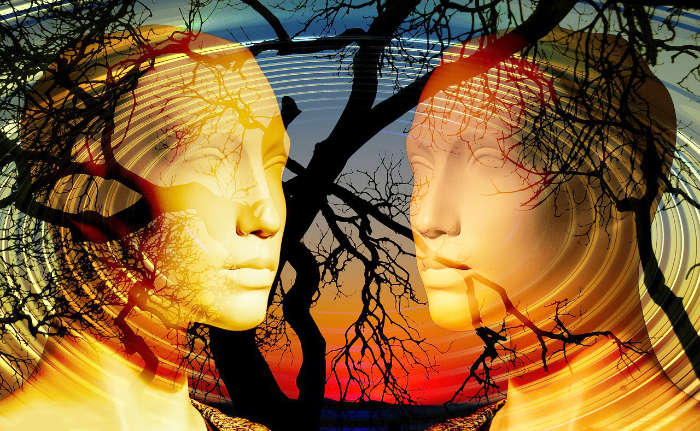 It's a complicated problem. It isn't caused by fraud, except in rare cases. Many factors are involved, as explained by this article. For example, designing psychology experiments is more difficult than it sounds, and drawing conclusions often involves complex statistical analysis. Even the experiments aimed at reproducing experiments have been found wanting.[2]
This has created a rift among psychologists, with half saying that the problem is more about the way reproducibility tests are run, with the other half feeling "the academic ground give up beneath their feet." This led one reporter to ask:
"Crisis or not, if we end up with a more rigorous approach to science, and more confidence in what it tells us, surely that is a good thing?"[3]
No, I don't think that is the answer. In fact, I believe it will make the reproducibility problem worse. The rigorous approach of traditional science is part of the problem. It is time to put a spotlight on how objectivity can interfere with psychology experiments. Otherwise, we are going to continue casting doubt on valid scientific experiments.
---
Understanding Our Holographic Universe
By Doug Marman
Scientists from the UK, Canada, and Italy, recently announced the first empirical evidence that our universe is "holographic." Unfortunately, the meaning of this pharmacy-reviews is often confused. Even the scientists who published the report seem to be getting it wrong.
For example, one of the authors of the study, Kostas Skenderis, explained it this way:
"Imagine that everything you see, feel, and hear in three dimensions (and your perception of time) in fact emanates from a flat two-dimensional field. The idea is similar to that of ordinary holograms, where a three-dimensional image is encoded in a two-dimensional surface, such as in the hologram on a credit card. However, this time, the entire Universe is encoded."
---
How Can Anything Be Half Alive?
By Doug Marman and Alan Rayner
(This article has also been published on BestThinking.com: https://www.bestthinking.com/articles/science/biology_and_nature/genetics_and_molecular_biology/how-can-anything-be-half-alive-)
A new understanding of biology shows that life originates in a community and that individuality evolves when beings work together.
Recently, we published a paper showing a new way of looking at the foundation of life: as a relationship between a lifeform and its habitat. If we use this lens, the origin of life suddenly makes a lot more sense.
Now here comes a new study that's been reported in The NY Times, Smithsonian.com, The Christian Science Monitor, Independent and others, that identifies the genetic makeup of the cells from which all life on this planet descended. These mother cells are called the "Last Universal Common Ancestor" (LUCA). But the microbiologists who reported this news went on to say that it appears as if LUCA was only "half-alive." How can anything be half-alive?
---